Asset Management
You can view how this module works below. Simply click the links on the left to view the 'How To' information.
When you are ready to try it yourself you can register for a free, no obligation account
---
Creating an Asset
Available for user levels:
Account Adminstrator
Manager
Standard User
---
Creating and managing your Assets and Alerts
Once you have your bottom three options completed, you can now create your assets. Below you'll see what happens once you have created your asset and assigned some requirements to that asset.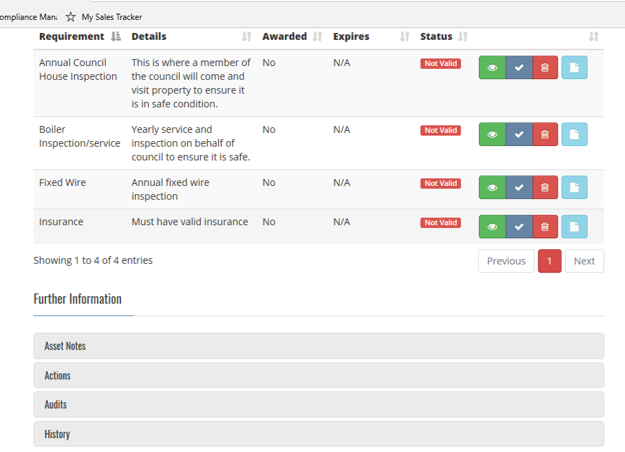 You will now see that your requirements are currently 'Not Valid'. You can now award your requirement by pressing the blue tick icon. Once you have awarded the requirement, you can then click on the far-right blue document icon. You can now upload a document to your requirement, this can be a certificate or a picture, equipment or anything you want to attach. You can also add notes, set actions for the asset or even audit the asset using the options above.
** A recent update has enabled MY Compliance Users to now add notes to the Requirements section of the asset by viewing a requirement and scrolling down to 'Requirement notes'.

Here, you will see that you can export this Asset as a PDF and set and manage 'alerts' for your asset. This will mean you can assign this asset to a group or an individual. This will be become important if you do not want all Account Admins to receive alerts for every asset in all registers.