Shaping the way to Compliance after COVID19
As a valued primary user of MY Compliance Management, you are invited to our Exclusive Users Only Forum 2021 'Shaping the way to Compliance after COVID19'
This year we will be heading back to a new suite at the Etihad Stadium in Manchester on Thursday 7th October 2021
Venue: Etihad Tunnel Club, Etihad Stadium, Rowsley Street, Manchester
This event is FULLY BOOKED! Please contact Alistair McKenna for more information on amckenna@my-compliance.co.uk
Topics/sessions throughout the day:
Best Practise from our Users (Back by popular demand, hear from some of our users on how they use the software and how important it's been throughout the last 18 months)
Break-out best practise with the Customer Support Team – Take a look at the modules and make sure you're making the most out of the system
'Have your say' & You've said, We've Done – Hear from our Development team on what we've been up to over the past 12 months.
'What the Future Holds' – Hear from our Development team as they release Exclusive information on what we have planned for the system in the future.
Making the most out of Compliance – Hear about our partnership with iHASCO, what we've been up to with External Access and find out how SendMY has evolved over the past 12 months.
Brand new Product – Be the first to have an exclusive look at our brand-new MY Emergency Control software tool.
Opportunity to talk – There will be sessions throughout the day where you can book a short session with your account manager to discuss your system and any questions or queries you have.
What you'll get from the day:
Pick up some best practise tips from other users and how they utilise the system.
Provide you with an update and an input into our future development and features in the system.
Hear from the Experts – Our Support Team as they help you explore new ways of using the system.
Get a guided tour around the stadium and hear how the team at Etihad are using MY Compliance Management to improve their Compliance.
Cost: £40.00 (+vat) per person
Full day of Awesome Compliance stuff
Private Guided Tour of the Stadium
Arrival Tea/Coffee & Pastries
Mid-morning Tea/Coffee & Biscuits
Buffet Lunch
Afternoon Tea/Coffee & Biscuits
Onsite parking
This small charge of just £40.00 (+vat) per person will include all refreshments including Tea/Coffee and Lunch. Plus, we have arranged a private guided tour of the stadium where they will discuss how MY Compliance Management is used by the football club.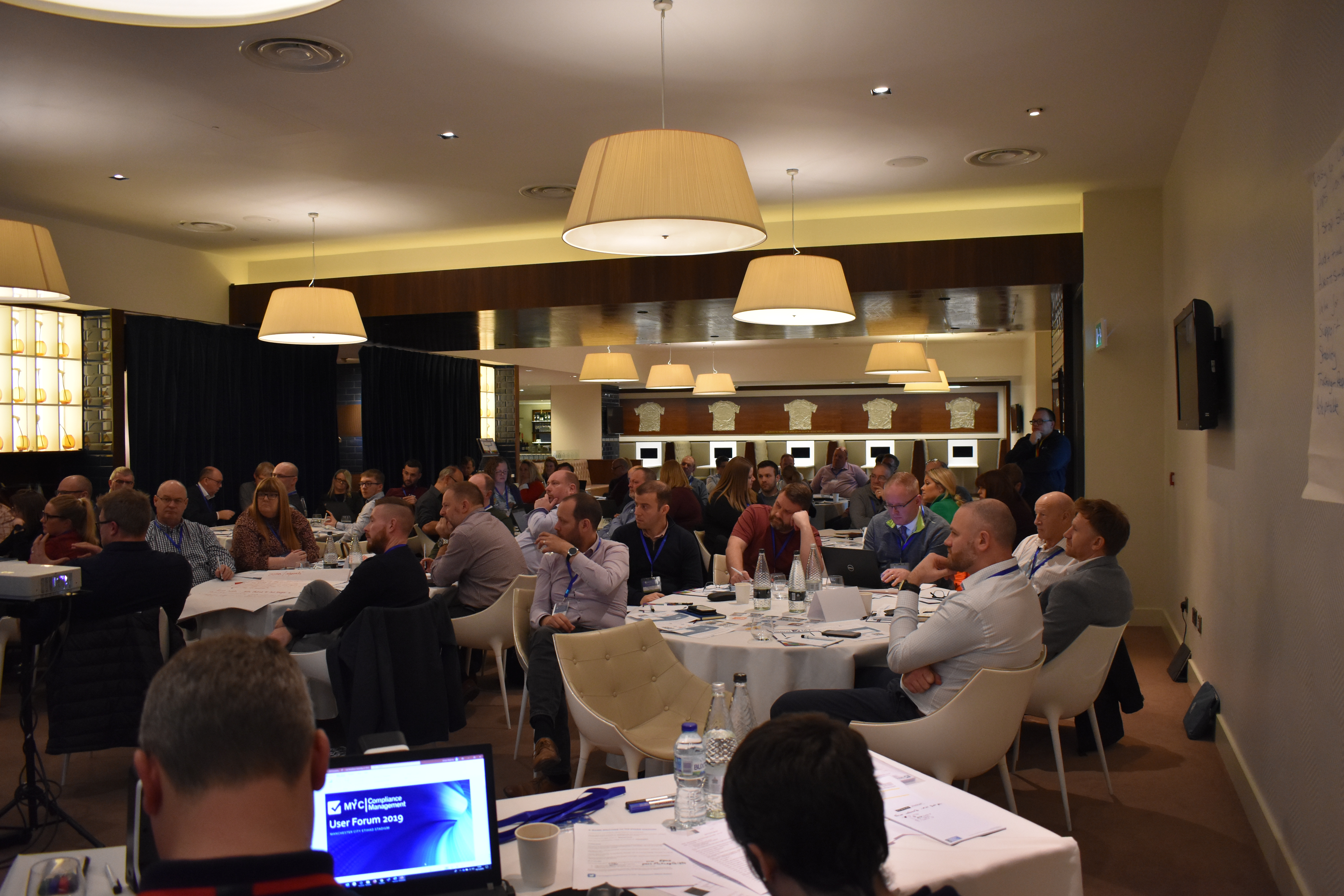 Pre-Forum Drinks Reception
We are also holding an exclusive Pre-event Drinks Reception at 7pm to 9.30pm on Wednesday 6th October 2021.
Venue: Hampton by Hilton North Quarter
Some of the MY Compliance Management team will be on hand from 7pm to provide you with your first glass of fizz on us. Then either network with other clients or just relax after your long day at work or journey in.
Booking terms
Maximum 2 seats per company
Tickets are non-refundable unless the event is cancelled by the event organisers.
Tickets can be transferred within your organisation up until 7 days before the event.

You can buy 2 tickets on behalf of others within your organisation as long as their names and emails are confirmed no later than 30th September but as soon as possible after booking.

MY Compliance Management have no control over your hotel booking, this is directly managed by the hotel.